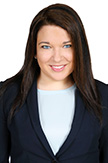 Four Decades and Counting of Collective Success
I am excited to lead the Jersey Shore Chamber of Commerce in my second term as its President. Now in our 42nd year, JSCC brings together proprietors and businesses who share an interest in the economic growth of the Jersey Shore business community. This group is motivating, inspiring, supportive and friendly. I have also witnessed firsthand that this group is committed to achieving collective success through mutual referral, affordable advertising and marketing opportunities, and individual recognition. When I accepted the Board of Director's nomination to be President last year, I was not expecting to confront the ground-shifting challenges of 2020. With the fortitude of the Board of Directors, the guiding light of our Executive Director Evelyn Mars, and the tireless advocacy of our government representatives, we are successfully advancing our mission and serving our community.

I was drawn to serve on JSCC's leadership team initially because our mission closely parallels my work. As a business litigation partner at Fox Rothschild LLP, a national law firm, I help businesses solve all kinds of problems. My roots are in the center of the region the JSCC serves. I am a proud graduate of Sea Girt Elementary School and St. Rose High School, Belmar. After graduating from Rutgers University and Seton Hall Law School, I moved to Brielle, where my husband and I now live and raise our sons. Last year, I put my "problem-solving" skill set to the test. We successfully transitioned into virtual networking, seamlessly educated our members about the ever-evolving set of regulations out of Trenton, and effectively supported in-person programming and events, all of which marked one of the most rewarding years our Chamber has ever seen.

Rather than just tell you about why I am qualified to serve our community, I now have shown you. I bring to the JSCC a diplomatic approach to problem solving, a zest for life, a tireless work ethic, and a deep commitment to the Jersey Shore. I look forward to helping our members to "think outside the box" in order to identify and maximize our assets and be even better than we thought we could be. The historical success and growth of our members and organization is no secret. JSCC was built through the good work of our very dedicated board of directors, past and present, and with the unwavering guidance of our Executive Director Evelyn Mars. With the benefit of Evelyn's spirit, drive, and vision, we will emerge from the challenges presented in 2020 and march into this fourth decade of existence prosperous and fortunate.

The business and personal success of our members is dearly important to me, as it ultimately cultivates a better quality of life for my friends and neighbors at the Jersey Shore. As the saying goes: "show me who your friends are." Don't be shy. Send me an email or give me a call, and I would be proud to introduce you to any of the members (my friends) of this great organization.

Let's make 2021 the best year yet.
Best,
Corinne Trainor
CTrainor@FoxRothschild.com
(609) 844-3038 (office)